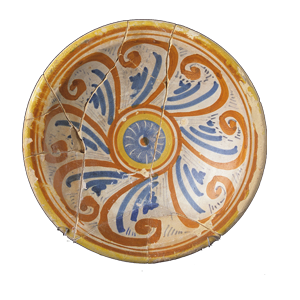 PLATE IN THE
"SPIRALI ARANCI"
STYLE
El Sotanillo (Alicante)


Pottery
h: 3 cm; w: 17.6 cm
Montelupo workshop (Italy)
Middle of the 15th century


Plate with a concave base with solid foot ring, straight everted rim with pronounced external thickening and hemispherical body with stilt marks on the outside. Polychrome glazed decoration in the "spirali aranci" style. This type of decoration is composed of a drawn central geometric motif in the inner part of the plate, from which spirals emerge which decorate the rest of the inside of the plate. Two thick concentric bands decorate the border of the plate.
This type of plate was made in the Toscano workshop of Montelupo (Italy) and is evidence of the numerous commercial contacts between Italy and Alicante during the 16th century. During this period Alicante became one of the most important ports in the Kingdom of Valencia.
CS: 11316
MENENDEZ FUEYO, J.L. & LÓPEZ PADILLA, J.A., 2005.