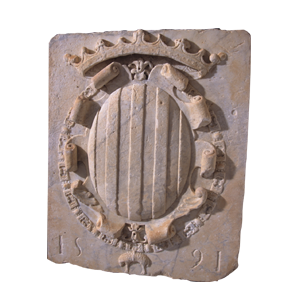 COAT OF ARMS OF
THE CROWN OF
ARAGON
Casa del Rey, Alicante


Marble
h: 85 cm; w: 71cm; th: 11 cm.
1591


Heraldic shield carved on a rectangular marble plaque. The shield is oval shaped with a central area decorated with the bars of the Crown of Aragon, also known since antiquity as the "señal real de Aragón" (the Royal Sign of Aragon). There is a crown on the top part of the shield which is the indisputable proof of the lineage of the Aragonese sovereigns. On the outside of the shield there are two decorative borders in relief. The outer one is formed by chain links with a ram at the lower end which represents the emblem of the Orden de Toisón de Oro (The Order of the Golden Fleece). The inner border is decorated with rocaille. In the lower part, on either side of the ram, the date 1591 is carved.
According to the researcher Viravens, this shield presided over the outside of the old Casa del Rey, one of the customs houses in the area near the port of Alicante at the end of the 16th century. The building was used to collect salt cargos which the boats transported from the La Mata pier. The building was very large with light entering it from three points, and was located very near to the port. After the disappearance of the building, the heraldic shield was recovered by General Elizaicín, who kept it in his house until 1924 when it was offered to the Provincial Commission for Monuments, together with other pieces from his private residence, as part of the foundation collection of the Provincial Archaeological Museum.
C.S.: 12254
VIRAVENS, R., 1989.