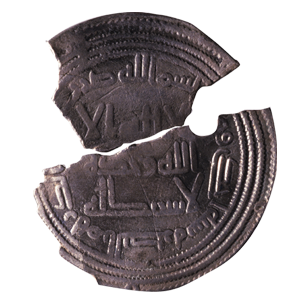 ALMORADI TREASURE
Finca "La Marquesa" (Almoradí)


Silver
Caliphate
Middle of the 11th century


Treasure made up of a total of 246 dirhams, of which one belongs to the Eastern Omeya Caliphate and was minted in the east at the beginning of the 8th century AD. The rest of the hoard dates from the 10th century or beginning of the 11th century, and consists of 206 dirhams of the Caliphate of Cordoba and 39 dirhams of the Fatimid Caliphate. The large amount of fragmented and cut coins stands out, as only 27 of the coins are whole.
The treasure was kept in a ceramic pot, hidden away from the living areas, sometime during the first half of the 11th century. The owner could have hidden the hoard during the unstable political climate that followed the disintegration of the Caliphate of Cordoba, hoping that more peaceful times would come.
Coin Inventory Nº 3520-3765
DOMÉNECH, 1991.
LLOBREGAT, 1976.