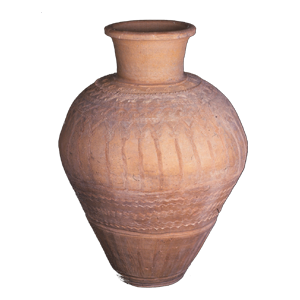 STORAGE JAR
Church of Santa María (Alicante)


Pottery
h: 90 cm; w: 63 cm
Late-Gothic Period
Middle of the 15th century


Storage jar with a flat base, vertical ellipsoid body with globular shoulders, and an inverted-cone shaped neck. The outer part of the rim is thick and square shaped and the inner is a simple concave shape. It has combed and stamped decoration, which in the joining of the neck and body comprises of a line of impressed stamps with six pointed stars and a small fingernail-decorated cord. In the lower part there is a series of horizontal incised-combed motifs which frame a wide central border where, using a similar technique, a pattern is developed, which is similar to examples of Islamic architectural decorations in relief.
The jar is associated with storage more than transport. It is characteristic of type V of the pottery record found in the depths of the vaults of the church of Santa Marta in Alicante. It is a unique and exceptional type of storage jar, which because of its ornamental composition, calls to mind storage jars of the Mudejar culture which have been found in the southern part of the Iberian Peninsula.
C.S.: 8263
BORREGO, M. & SARANOVA, R., 1994.
BORREGO, M. & SARANOVA, R., 1993.
MENÉNDEZ FUEYO, J.L., 2005.