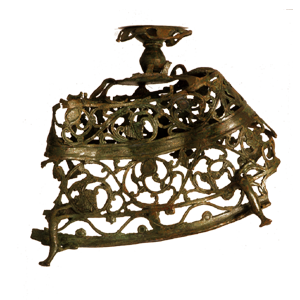 OPENWORK LAMP
WITH FITOMORPHIC
DECORATION
C/ Historiador Palau, Denia

Bronze
h: 21 cm; w: 26 cm;
Islamic
Fatimid Caliphate
2nd half of 10th century.


Incomplete lamp which is missing part of its base and its body has been crushed. Originally it would have had an inverted cone shape. It was supported on three small legs, of which only two remain, and these are in the shape of animals, possibly lions. The decoration of the lamp's body is organised in two parallel bands separated by a plain strip. There is the same plant decoration of the tree of life on both bands which is arranged in circular tendril borders which encircle alternately: leaves, apples, bunches and sometimes trifoliate leaves. The lamp has a tulip shaped ornamental top with an overhanging edge with rectangular perforations. The top part is attached to the main body by bunches of double stems. This is an openwork lamp made by the lost wax method of casting.
The lamp is very similar in shape to a large incense burner in the Louvre museum (PARIS, 1977, nº19) dated to the 9th century. The upper part of the Louvre lamp is very similar in shape to the Alicante lamp and it also has zoomorphic legs in the shape of hares. The arrangement of its fitomorphic decoration with bunches of stems which engarland the trifoliate leafs and bunches etc… all demonstrate the important and intense Coptic influence of this work of art.
CS: 7699
AZUAR, R., 1989.