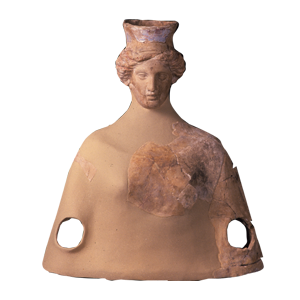 TERRACOTTA BUST
Cemetery of La Albufereta (Alicante)

Terracotta
h: 40 cm; w: 37 cm; d: 21.5 cm
Iberian
4th-3rd centuries BC.


Bell-shaped female bust, reconstructed from a number of surviving pieces including the head and part of the front left hand side and back of the body. It was mould made and the inside is hollow.
The face has marked Greek characteristics. The hair, which frames the face, is combed with a central parting with the tips pointing upwards. The figure wears a cap, a kalathos, with a slight inverted cone shape, similar to that of the incense burners in the shape of a woman's head, which were found in such great numbers in the cemetery of la Albufereta. On the chest, only the breasts are highlighted, and the back is smooth. There are holes on both sides of the bust (only one survives) for detachable terracotta arms to be placed.
Some of the polychrome painted decoration is preserved; blue on the cap and white and on the body. The bust has been recently restored again which has given it a more stylised aspect in comparison to the very heavy form it had due to the addition of thick plaster during its first reconstruction, which was carried out soon after it was found.
The bust was found in the Iberian cemetery of la Albufereta, in a tomb which contained a large number of grave goods, during excavations in the 1930s directed by J. Lafuente Vidal.
The figure represents the Punic goddess of fertility, Tanit. Its closest parallels have been found in Ibiza in busts which have the arms in place, which suggest that the bust was possibly imported and has Carthaginian origins.
C.S. 5902
LAFUENTE VIDAL, J., 1934.
RUBIO GOMIS, F., 1986.
MARIN CEBALLOS, M.C., 1987.