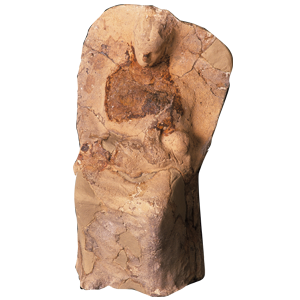 SEATED FEMALE TERRACOTTA
WITH A CHILD.
MOTHER-GODDESS ASSOCIATED
WITH DEMETER
Cemetery of La Albufereta (Alicante)

Pottery made with a single valve mould
h: 21 cm; w: 11.3 cm; d: 7.5 cm
Iberian
4th century BC.


A terracotta figure of a seated female figure. It has a veil which wraps around the figure from behind in a way that suggests that the figure is sitting on a throne. The figure emerges inclined forwards to the figure of a child which it is holding in its arms and which has just finished feeding. The child, held in her mother's arms on her lap, reclines its head whilst it lifts its left arm towards its mother's chest. The facial characteristics are schematic and poorly defined whilst the breasts are well defined. The back of the figure is flat and there is a hole in the centre about 3 cm in diameter, perhaps to hang the figure from. In the breast area there is a rust stain that could have been caused by being in contact with a metal object whilst buried in the grave. The throne follows typical Hellenistic styles although with a local interpretation. Remains of white slip also survive.
This terracotta figure was found in the "Gran Sepultura" (Great Tomb, L-127-A), a grave which contained various burials. Amongst the materials found a series of terracotta figures with clear Punic influences, stand out. The maternal female figures with a child in their arms are associated throughout the Mediterranean with nourishing divinities such as Demeter, the goddess of the Greek pantheon, who was the protector of cultivated lands and of wheat.
C.S.: 3710
LAFUENTE VIDAL, J., 1934.
RUBIO GOMIS, F., 1986.
LLOBREGAT, E.A., 1972.
MARÍN CEBALLOS, M.C., 1987.