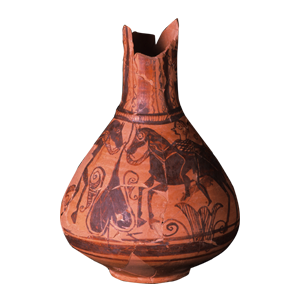 JUG
Tossal de Manises (Alicante)

Pottery
h: 31.5 cm; w: 21.4 cm
Iberian
End of the 3rd century BC.

Iberian jug or Oinochoe with painted decoration. The rim is missing but can be inferred by the form of its trefoil neck. It has a pirriform (pear-shaped) shaped body and a convex base. The lower handle attachment survives which would have formed a bifid strap handle. It is made out of well purified reddish clay.
The central decorative theme is situated between the widest part of the jug and the base of the neck. It is composed of two horsemen confronting each other, separated by a large ivy leaf and framed horizontally by bands and fillets. The figures are silhouettes and the male bodies are superimposed over the bodies of the horses. The head of the horseman on the left as well as part of the horse are missing. The clothing of the knight on the right is drawn with diagonal crossed hatched lines and the other by bands. Both carry wide reigns in one hand whilst in the other they brandish lances holding them at the distal end in such a way that the heart shaped spearheads are on the opposite side of the pot.
The decoration is completed with geometric and plant motifs of trefoil flowers, volutes, spirals and "zapateros" (cross-shaped decorations). The neck is decorated with geometric features (triangles, bands and vertical "Ss").
This jug was found in 1994 during consolidation work on the site and is the first recorded example of the "narrative" or Lliria – Oliva style on the site, and the most southerly in the Contestania region. Up until now this style only extended to the Alcoià-Comtat area, due to the influence of La Serreta (Cocentaina-Penàguila- Alcoy), and with some other examples from el Tossal de la Cala (Benidorm), as well as the famous vase from the cemetery in Oliva. Other examples of this style of pots have subsequently been found in later excavations in el Tossal de Manises.
The decoration is related to the themes of Sant Miquel de Lliria and la Serreta, although the lines and composition of the accompanying figures and motifs are more like the painted pottery from more interior Contestanian sites.
It is thought that the horsemen are not in a fighting pose, but more likely represent a ritual pose or are standing to arms. This is because the lances are not threatening the opposing horsemen, but on the contrary, the lance heads are positioned at the end furthest away from the hypothetical rival. This could be evidence that a large number of the warrior scenes of the narrative style of pottery are not artistic expressions of scenes of combat or battles, but could be interpreted as being representations of the Iberian aristocracy, which has been suggested for the famous Lliria vases.
C.S.: 5962
Unpublished.