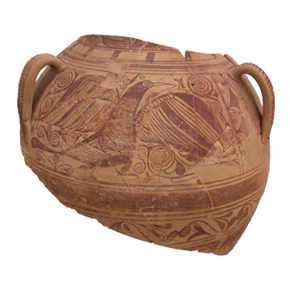 STORAGE JAR WITH ELCHE
-ARCHENA STYLE DECORATION
Tossal de la Cala (Finestrat).

Pottery
h: 39 cm; l: 46 cm; w: 30 cm
Iberian
2nd -1st century BC.


Large storage jar, the shape of which has been reconstructed from the number of handles it has and its asymmetrical shape. Its shape indicates that it would have had three handles (two of which are present) and that it corresponds to a pot, well documented in the pottery repertoire of the late Iberian period, known as a Pithoid jar.
This is a large closed-form storage jar with a concave base, globular body and a moulded neck and rim. It has triple strip handles vertically positioned in the upper half of the jar. The exact use of this type of jar is unknown. Its monochrome painted decoration is a figural theme, which covers the whole of the pot, and is known as the Elche-Archena or Symbolic style.
The pictorial composition is characteristic of the Elche-Archena style. There is a wider main frieze which occupies the upper half or fine part of the jar, where the handles act like triglyphs to divide the scenes. In this frieze the most important scenes unfold. On the lower half of the jar there are secondary friezes which contain plant and/or geometric themes. All of the friezes are framed by decorative fillets and wider bands. Another characteristic is the horror vacui, which is the filling of the entire surface with decoration.
The main frieze would have been composed of three scenes. In the only scene completely preserved, a very characteristic motif of a bird with its wings spread out is depicted. Between the bird's head and the left wing there is a winged rosette, the symbol of the Great Goddess. Of the left hand scene, only part of an animal's head survives. Its position, characteristics and size indicates that it is the head and upper part of a carnivore with its head looking back. In the right hand scene, two running animals can be recognised; the upper one is a carnivore and the lower one a deer. Above the carnivore there is part of a wing which could correspond to the head and upper part of a bird on the back of an animal. The middle space is occupied by two small birds with their wings spread out and another carnivore stalking one of them. The empty spaces of the three scenes have been filled with the same repeated plant motif of a flower bud decorated with cross hatchings or of a leaf which emerges from a spiral. A band of thick vertical lines separates the body and the neck of the jar, where there is another frieze with the head and upper part of birds with their wings spread out.
C.S.: 5715
NORDSTRÖM, S., 1973.
RAMOS FOLQUÉS, A., 1990.
SALA SELLÉS, F., 1992