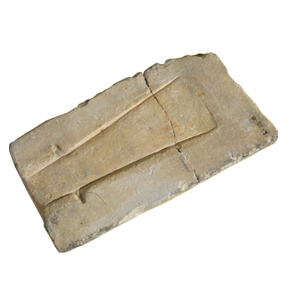 BRONZE AGE AXE MOULD
Penya Negra (Crevillent)

Sandstone
l: 16.7 cm; w: 8.3cm; th: 4.3 cm
Late Bronze Age
800-550 BC


Mould for the casting of lugged axes, made out of a rectangular block of sandstone. It has a trapezoidal shaped groove with two smaller grooves in the shape of lugs on either side it.
The mould (actually incomplete as it forms part of a bivalve mould) was used for the casting of a specific type of tool, the lugged axe, which dates approximately from 1100 BC to the 8th or 7th centuries BC. This type of axe is very rare in the Levante region, and is much more frequently found in the Atlantic region. This could indicate that the workshop in Penya Negra had contacts with that area.
C.S.: 1576
SIMÓN GARCÍA, J.L., 1998.
GONZÁLEZ PRATS, A., 1983.
RUIZ-GÁLVEZ PRIEGO, M.L., 1990.