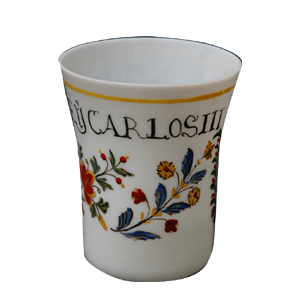 OPALINE BEAKER
OF CARLOS III
Beltrán Ausó Collection


Glass, Blown with a rounded mould and worked using a punty iron
h: 11cm; diam of rim: 9 cm; diam of base: 6.5 cm
Real Fábrica de Cristales
18th century.


Opaline beaker with a flat base and inverted-cone shaped body with flaring sides and a rounded rim. Made in La Real Fábrica de Cristales de la Granja (La Granja Royal Glass Factory). It has glazed floral design and a gold fillet on the upper edge. It is also decorated with a polychrome Bourbon Royal Shield flanked by two palms trees and three floral garlands, above which are the letters in capitals "VIVA EL REY CARLOS III" (Long Live King Carlos III).
The Royal Glass Factory of La Granja was established by appointment of the Crown during the reign of King Felipe V. This created an important glass industry which closely reflected the grandness of the monarchy within the context of the enlightenment period, and which brought about the commercialisation of the Royal Manufacturers, following the pattern set in France. Maestros of different nationalities arrived at the factory, who contributed to the elegance, quality and exquisiteness of the pieces produced in this factory, which competed with the Bohemian, Venetian, French, English and German glass producers. The fabrication of this white opaque glass, "opaline", with an iridescence that recalls opal, is obtained from calcium phosphate added to the colourless composition which comes from burnt animal bones. Opaline was made to order from 1751, but ten years later, it became one of La Granja's most successful products.
CS: 11247
AINAUD de LASARTE, J., 1952.
RUIZ ALCÓN, M.T., 1969.