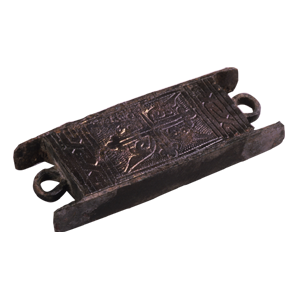 LIPSANOTECA
Castell d'Ambra (Pego)


Copper
l: 5.8 cm; w: 2.2 cm; th: 1cm
Early Medieval Period
Christian
1250-1280


Lipsanotheca or reliquary in the shape of a small prismatic shaped box with central rings at both ends so it could be fastened to the neck or stitched to a garment. The front part opens enabling a relic or prayer to be kept inside. There is also a small circular ring in the centre of the front part in which a stone (now missing) would be have been set. This is framed by badly made lateral fringes with a simple cord decoration. The back of the reliquary is decorated in the centre with an incised footed cross from which four simple acanthus leaves emerge in a radial form. This motif is on an embossed background with an array of dots and is framed laterally by two strips of simple geometric cord decoration.
As the reliquary was found in the conquest period levels of the excavations carried out in the castle Castillo d'Ambra (Pego) and due to its decoration with a cross pattée, there is no doubt that it is a Christian lipsanotheca or reliquary dating to before 1280.
CS: 8051
AZUAR, R. 2003.