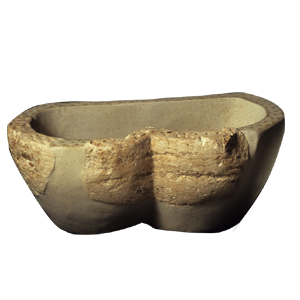 ANDALUSI HOLY
WATER FONT
Castell d'Ambra, (Pego)


Travertine marble
h: 20 cm; l: 35.8 cm; w: 18.5 cm
Islamic origin and reutilised by the Christians
1250-1280

Travertine marble font with a multi-lobulated shape and straight lip. It is hollow inside and has an inverted cone profile. The edge is simply decorated with carved rosary beads inside a slightly marked band.
Excavations carried out in the chapel of the Castell d'Ambra in 1994 uncovered two fragments of marble which, although they do not fit together, come from the same object (due to the material, shape and decoration). After it was restored in the laboratories of MARQ, it corresponded to a lobulated shaped holy water font, of which only fragments of its front part have survived. The shape and decoration of the font, as well as the fact that it is made out of Travertine marble, a material unusual in Roman workshops, suggests an Andalusi origin for the object. It was probably taken from a farm or house of the nearby town of Denia, and reused by the Christians who took it to the chapel in 1280.
CS: 8259
AZUAR, R., 2003.