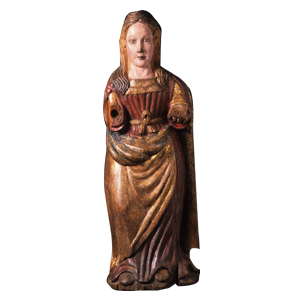 VERGE DEL ROSER
Historical collection MARQ


Carved in wood, plaster and polychrome decorated linen
h: 94.5 cm; w: 30 cm; d: 23 cm
Late-Gothic period
First half of the 16th century

Carving in wood with a layer of plaster, which has been covered with polychrome decoration on linen, which represents the image of la Mare de Deu del Roser with child. The sculpture is missing the right arm and part of the left hand in which it would have carried its symbols of worship: the rosary beads, the baby Jesus and a bunch of flowers. The statue would also have worn a crown which has also not survived.
The sculpture was originally placed in the Capella de Roser (the Roser Chapel) in the Iglesia de la Asunción (Church of the Assumption), in the old town of Denia, which was used as the burial place for members of the religious brotherhoods until the beginning of the 19th century. The sculpture came to Alicante in the 1930s, as part of the Provincial Commission for Monument's campaign to rescue cultural heritage in the years leading up to the Spanish Civil War, where it was kept in the storerooms of the old Alicante Provincial Archaeological Museum for its protection and conservation. In the past the sculpture had a great following of devotees, the "luminarias", in some areas of the Province.
C.S.: 8196
GISBERT, J. et al, 1991.
LAFUENTE, J., 1959.
TORMO & MONZÓ, E., 1923.