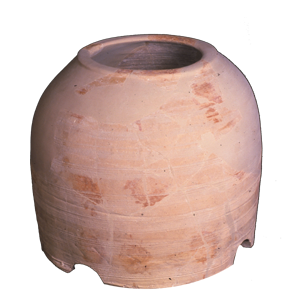 BREAD OVEN
(TANNÛR)
Islamic pottery kiln in c/ Curtidores-Filet de Fora street (Elche)

Pottery
h: 46.5 cm; w: 54 cm
Caliphate Dynasty
10th -11th century



Portable oven known as a tannûr, to bake bread. It has a cylindrical body, with the interior rim thicker and pointed and the outer convex. At the base there are semicircular openings which were used to extract the coals from inside. Vertical incisions have been made on the inside which helped the flat breads to stick to the walls of the oven.
The oven corresponds to type A, recorded by S. Gutiérrez of the materials found at the Ribat of Guardamar and the palace, Palacio de Altamira, in Elche. The tannûr was easy to handle and transport because of its sturdiness, due to being made of pottery, as well as its medium size. It was incredibly useful and was used to take coals and cook in places where there weren't any ovens and where cooking was practically impossible.
C.S.: 8169
AZUAR, R. & MENÉNDEZ, J.L., 1997.
AZUAR, R. & MENÉNDEZ, J.L., 1999.