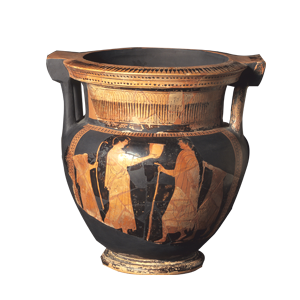 COLUMN KRATER
Cemetery of El Cabezo Lucero
(Guardamar del Segura)

Pottery
h: 34.5cm; w: 29.5 cm
Iberian
460-450 BC.


Restored attic red figured Column krater by the Florence painter. The inside of the foot and surface of the base are not glazed. The upper surface of the rim is decorated with lotus buds and the outer edge with a garland of ivy leaves. The neck is decorated with a garland of stylized lotus buds. The decorative scenes are framed laterally by two lines of dots separated by vertical lines, and in the upper part by a frieze of languettes (tongues).
The main side (A) is decorated with a scene of four people, all of whom are dressed in himation. On the left, there is a young man in profile, facing right and holding a stick in his left hand. In the centre, two young men are facing each other. The one on the left holds a skyphos cup in his right hand and the one on the right holds a cane in his right hand. Behind them is another young man in an identical pose. On the other side (B) only the upper part of the heads of two people in profile survive.
Kraters were used in Athens during banquets to mix wine and water. In the Iberian world they appear just as much in settlement sites as they do in cemeteries, where they made up part of the grave goods. In eastern Andalucia they were used as cremation urns, but this use has only been recorded in one grave from El Cabezo Lucero. The artist of this krater, the Painter of Florence, was from the early classical period, named by J.D. Beazley as the "Boreas-Florence Group", which consisted of painters who decorated Column kraters of the second category.
C.S.: 5756
ARANEGUI, C., 1993.
BEAZLEY, J.D., 1963.