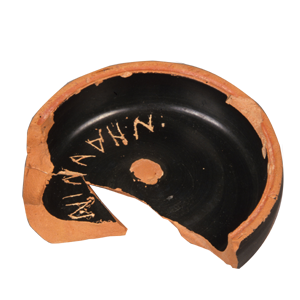 GRAFITI IN GREEK
-IBERIAN SCRIPT
Illeta dels Banyets (El Campello)

Pottery
h: 11.2 cm; w: 11.2 cm; th: 2.9 cm
Iberian.
380-325 BC.


Graffiti written in Greek-Iberian script on the outer surface of a piece of the base of an Attic black gloss bowl. The graffiti reads: NINAREN.
The Iberians used writing from the 4th century BC and there were three different scripts (Greek-Iberian, Eastern and Southeast scripts). The use of the Greek-Iberian script is characteristic of the Contestanian region. Standout examples are the large number of graffiti on pottery, probably ownership marks, found at la Illeta dels Banyets (El Campello) and the texts written on lead sheets from la Serreta de Alcoy, which probably had a commercial nature.
C.S.: 3725
GARCÍA I MARTÍN, J. M., 1997.
GARCÍA MARTÍN, J.M., 2003.
LLOBREGAT CONESA, E., 1972.