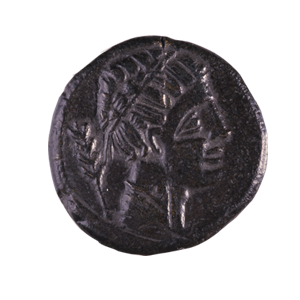 BRONZE AS OF SAITI
Donation

Bronze.
diam: 2.85 cm; wt: 16.89 grams; mint mark at the 5 o'clock position.
Iberian
Middle of the 2nd century BC.


Bronze As of the Iberian mint of Saiti (Xàtiva, Valencia). Vives type 20-2. On the obverse of the coin there is a diademed male bust facing right wearing an infula. A palm tree is in the background and there is no legend.
On the reverse side there is a horseman with a lance facing right, below which on a line, is the Iberian inscription SAITI.
In the 2nd and 1st centuries BC many Iberian and Celtiberian towns issued their own bronze and silver coins with legends written in Iberian script which referred to the name of the town where they were minted. In the Contestanian region only the mint of Saiti (modern day Xàtiva) issued coins at the end of the 3rd century BC, in the middle and second half of the 2nd century and in the middle of the 1st century BC.
Coin Inventory Number: 04315.
Unpublished.